"Lundin Oil Greenwashing Fest"
Stockholm, August 2021
Satirical undercover action with Extinction Rebellion (XR)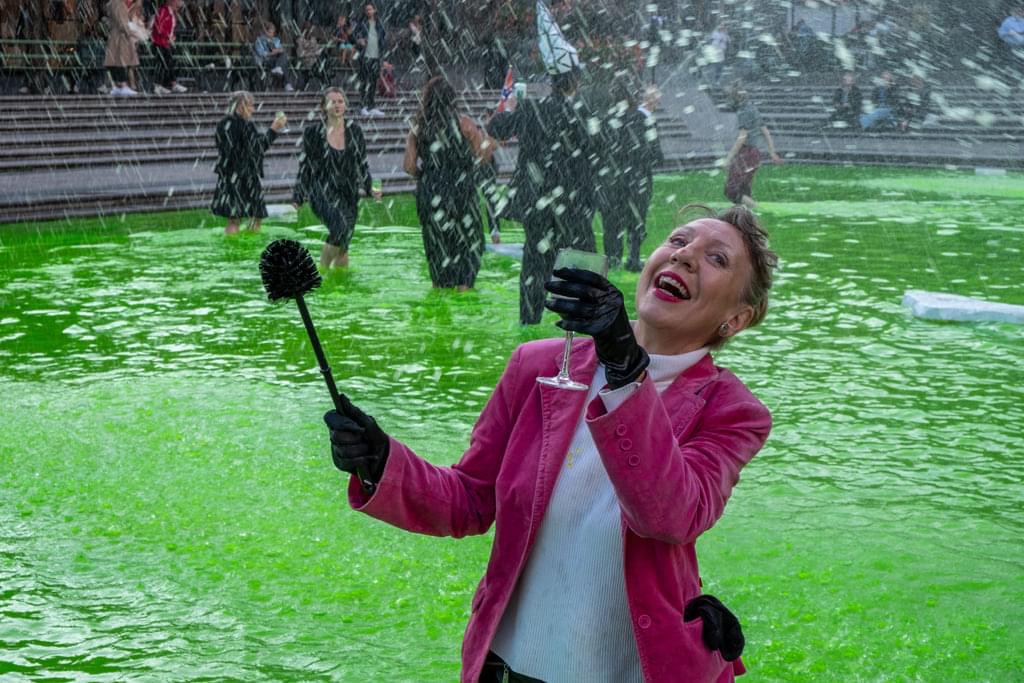 ---
"Serenad till Stefan"
Stockholm, October 2020
Sanna Extincia Rebellia stalking the Swedish Prime Minister Stefan Löfven. Satirical undercover action with XR.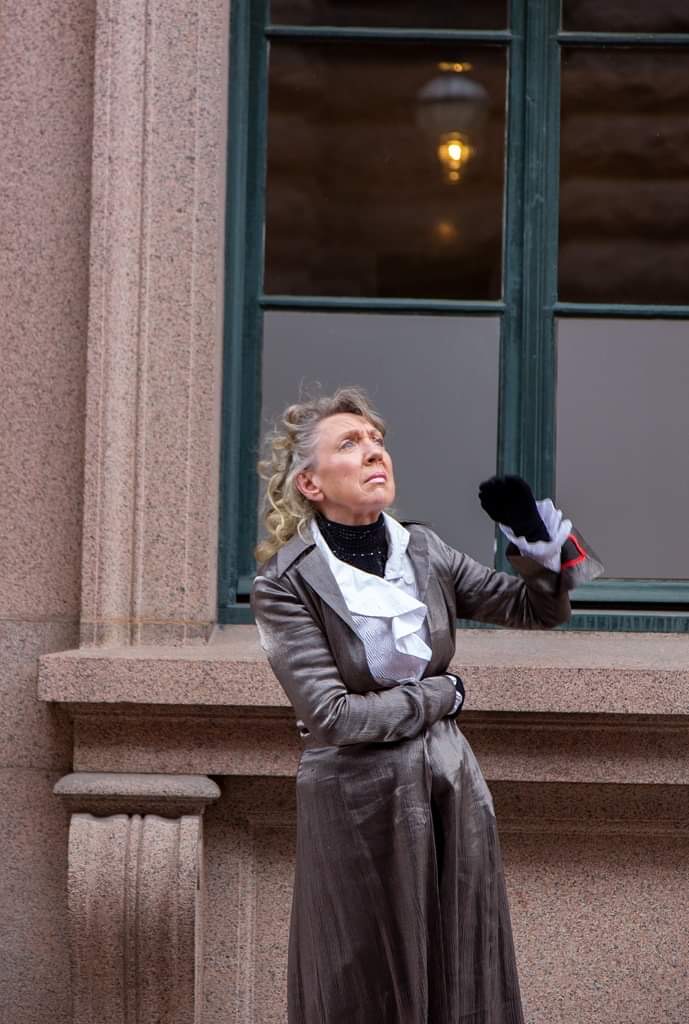 ---
"At the Offices of Preem Oil"
Stockholm, September 2020
Preem's CEO and employee slip on an oil spill at their headquarters. Satirical undercover action with Samuel Jarrick, Mariam Jallow Tholozan, and others in XR.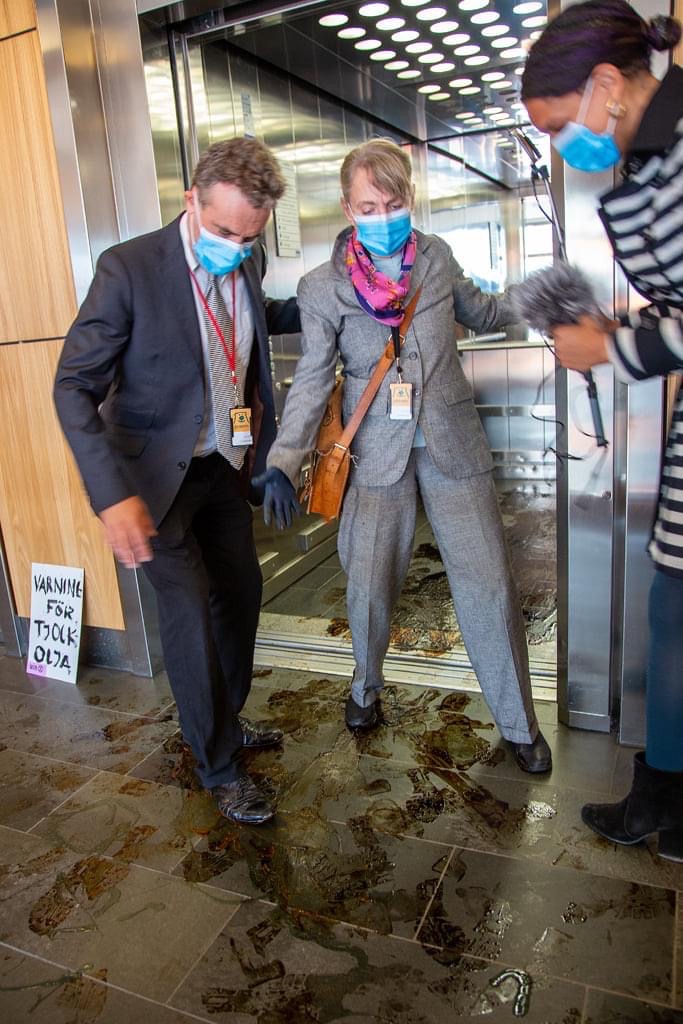 ---
"Red Rebels"
Berlin, October 9, 2019
At Extinction Rebellion street actions during International Rebellion Week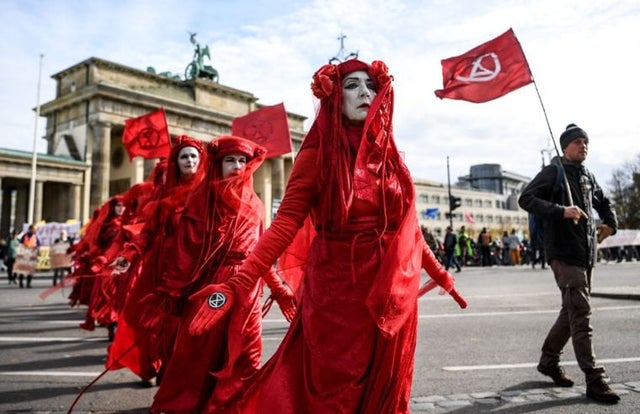 ---
"Poverello at Tiananmen Square"
Tiananmen Square, Beijing, November 24, 2013, 3:00 pm
Forbidden street action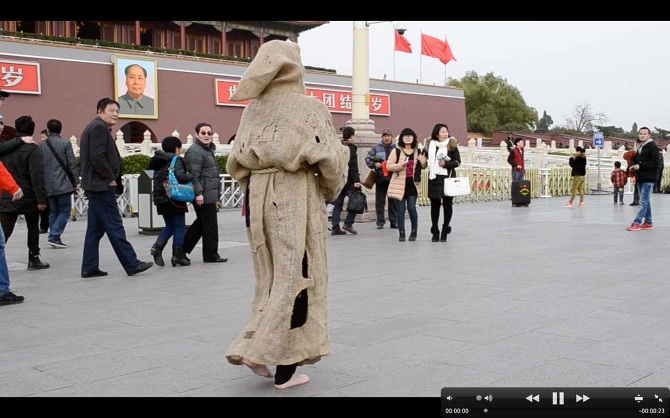 ---
"June 4, 1989"
Stureplan, Stockholm, June 4, 2014 , 5:00 pm
Calligraphy in water on linen canvas: the Chinese characters for 6 and 4. An LED advertising display screen over Stureplan square simultaneously displays a video from Beijing: a barefoot, burlap-clad figure walking slowly across Tiananmen Square before being detained by police.
---
"Poverello Painting II"
Gotland, Sweden, July 15, 2016
Performance at Kalkladan Konst Bungenäs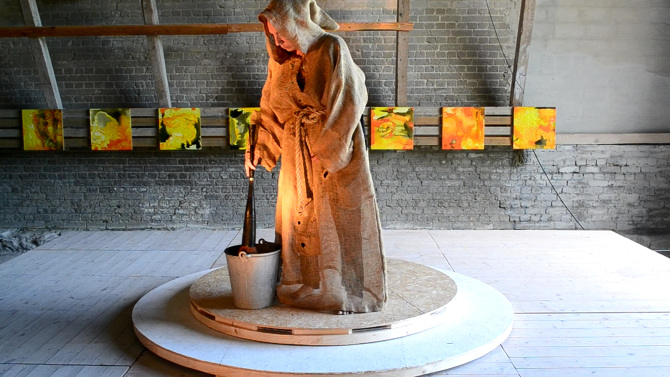 ---
"Il Poverello"
Lund, Sweden, October 4, 2013
Performance in Lund's Cathedral. St Francis was a radical monk in the 1200's. Barefoot, dressed in rags, he practiced "doing mercy" (active empathy) to the poor and the powerless. The performance invoked his spirit to commemorate martyrs in today's China.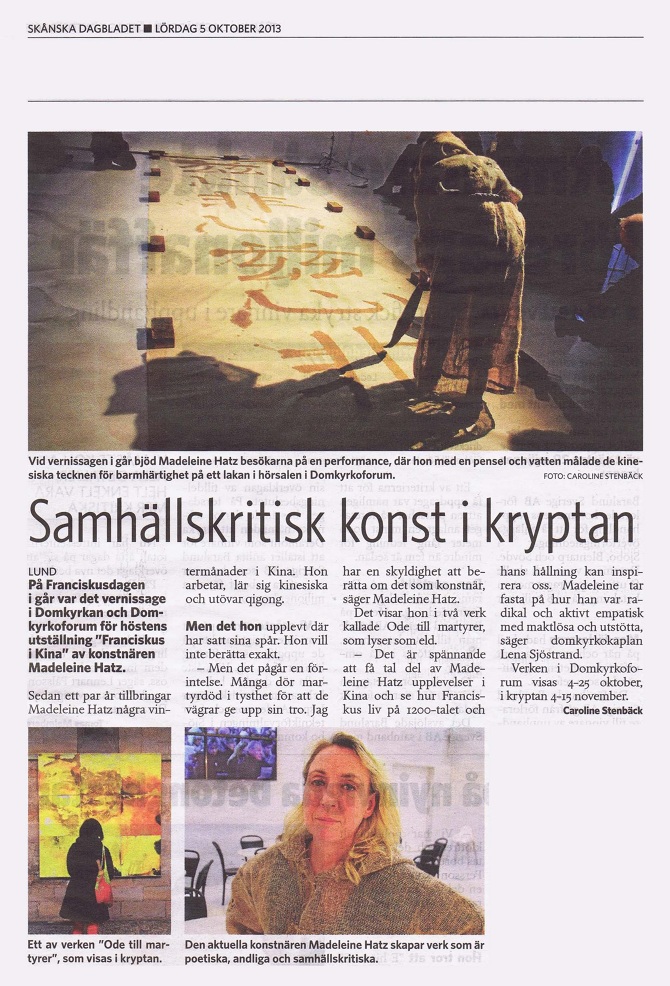 ---
"Mercy"
Gåxsjö, Sweden, July 19, 2014
Performance at Gåxsjö Church, Jämtland. Calligraphy in water on asphalt.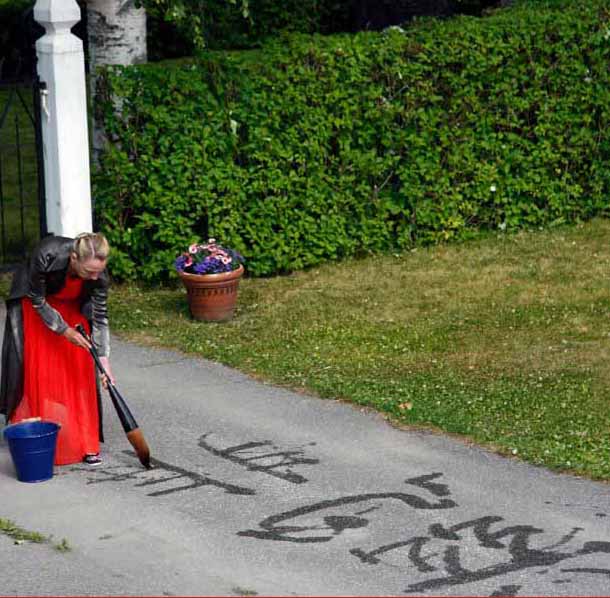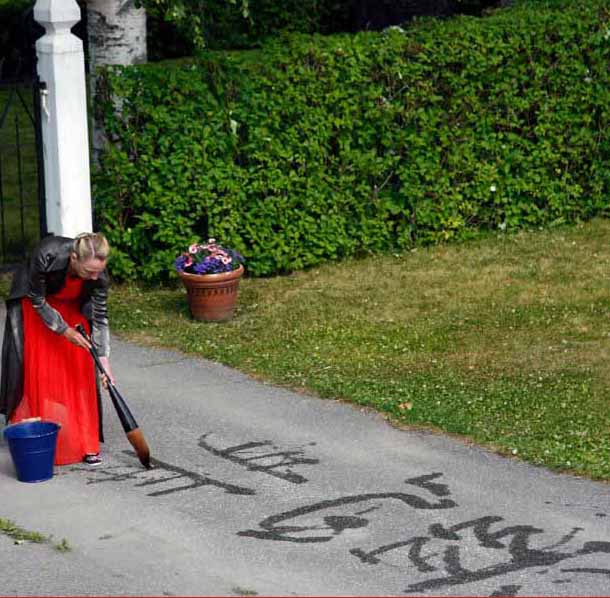 ---
"Painting Gold"
Gotland, Sweden, August 28, 2016
Performance at Kalkladan Konst Bungenäs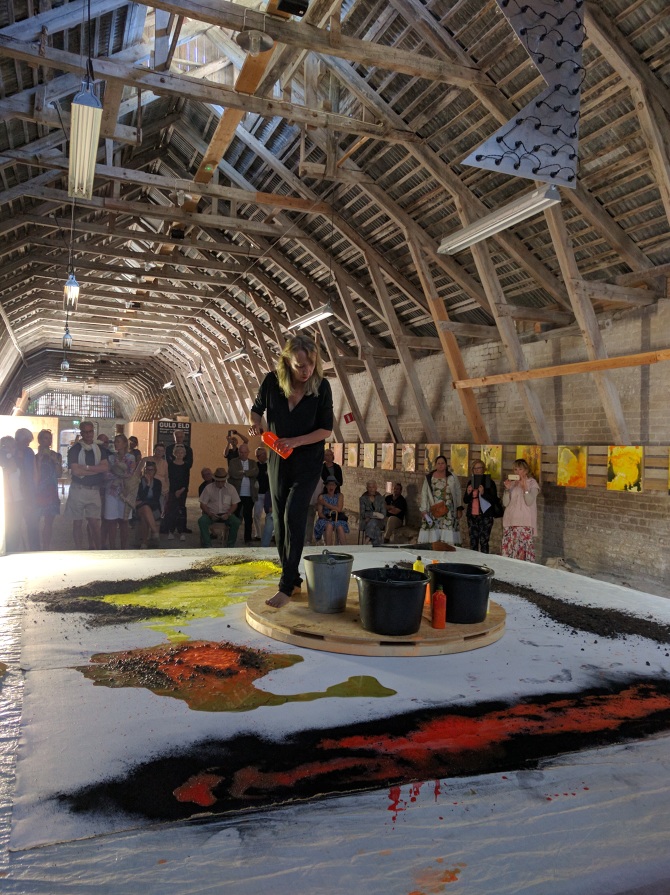 ---
"Space and Culture"
Stockholm, October 14, 15, & 16, 2015
Three conversations at the "Dome of Visions," a temporary project space at KTH Royal Institute of Technology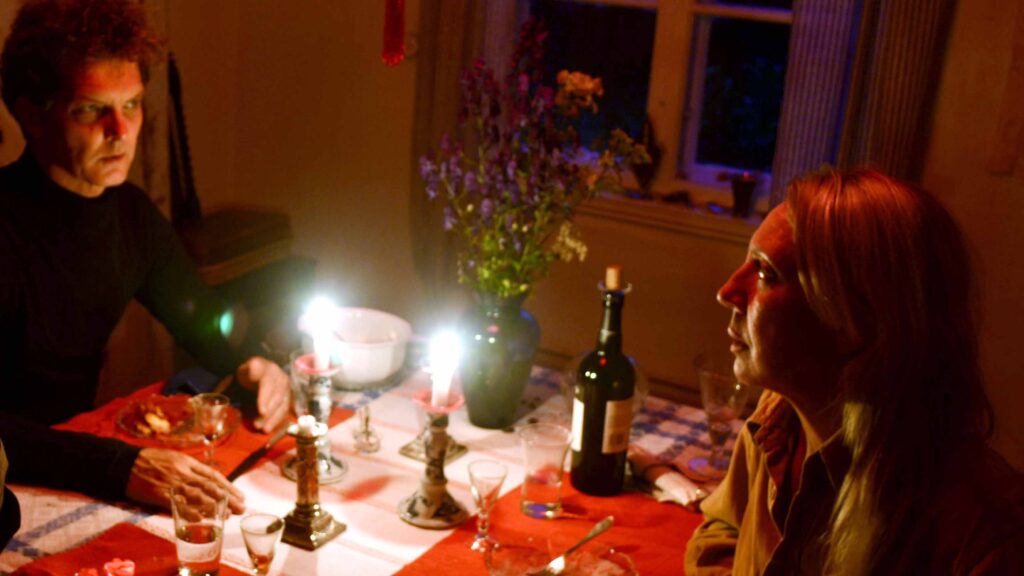 "Space and Culture," a series of 18 public conversations between architect Peter Lynch and artist Madeleine Hatz, was held in different venues in Sweden and the US throughout 2015. In their dialogues they examined painting, sculpture, architecture, music, poetry, philosophy, and literature as spatial situations.
---
"YKB Anthropometries"
Brooklyn, July 11, 2009
Performance, six hours in slow motion, on Bedford Avenue, Williamsburg, Brooklyn. Part of "7 in 6," seven performances in the spirit of the 60's during six hours, curated by by Creative Thriftshop and Williamsburg Gallery Association. "Klein Blue Performance" on July 22, 2009 at Elga Wimmer Gallery, New York City.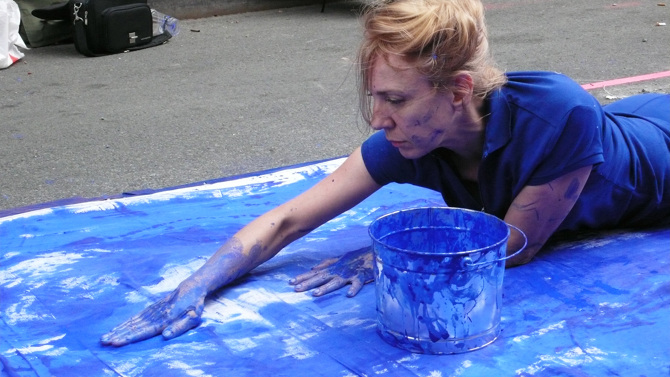 In The Klein Blue Performance by Madeleine Hatz, the artist, working with YKB paint and attired in lyotards of similar hue, paints a large drop canvas with her hands and feet, dripping and printing the paint around the contours of her own body. She pays homage to the anthropometries of Yves Klein while correcting the sexism of the French master, who used comely, naked young models as his instruments, by having the artist be her own brush. (If only such brushes were available at Pearl Paint!) A hint of the dionysiac via Carolee Schneemann's Meat Joy might come to mind from the photographs of these performances, but that's deceptive: With a Jordi Savall soundtrack, the experience is decidedly meditative. Hatz gave her performance in Williambsurg June 11 under the auspices of Creative Thriftshop and repeats it July 22 at 6pm at Elga Wimmer, 526 West 26, # 310, where her small YKB Ceilings series of paintings are part of that gallery's Summer show.
review in artcritical, July 20 2009 https://artcritical.com/2009/07/20/madeleine-hatz-at-elga-wimmer/
---
"Blood and Oil Spill"
Brooklyn, May 2004
Performance at 610 Smith Street Studio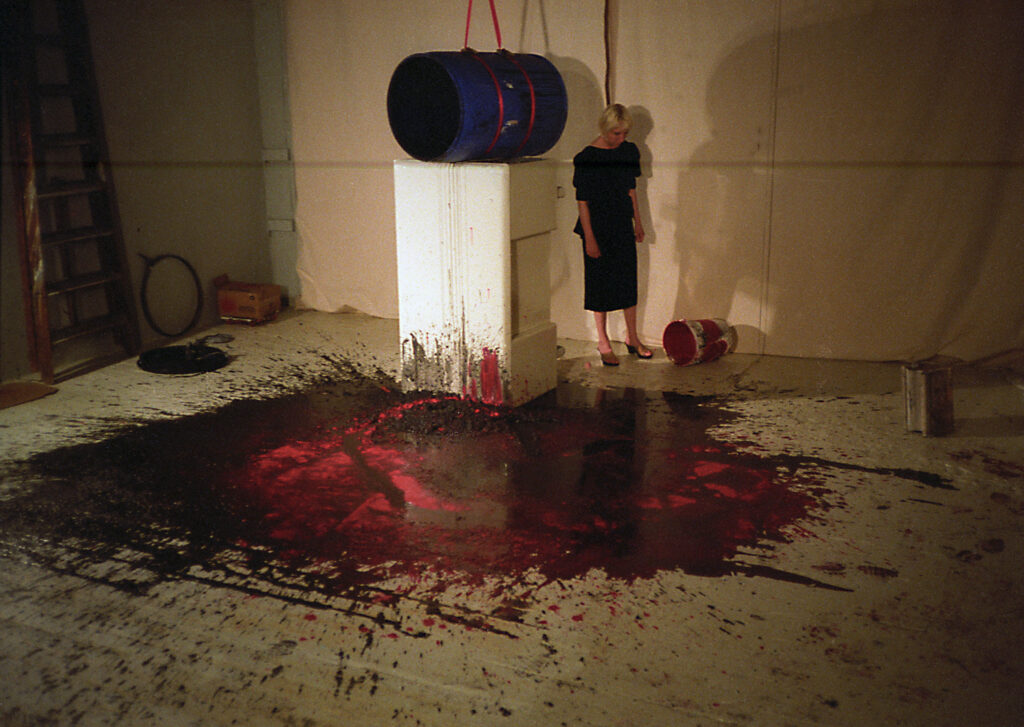 ---
"Blue Fireplace"
Istanbul, November 3, 2003
Performance at Borusan Foundation, Istanbul. Part of "Hands to Work, Mind to God," curator Elga Wimmer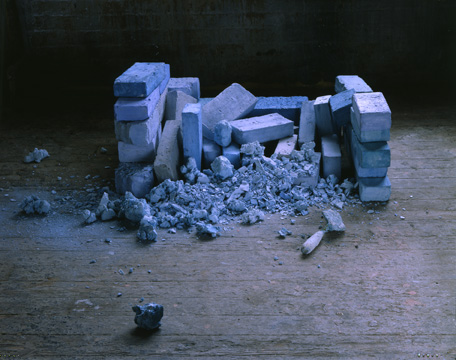 ---
"Migrants"
Zurich, November 26, 2000
Performance at Kunst 2000 Art Fair. Florence Lynch Gallery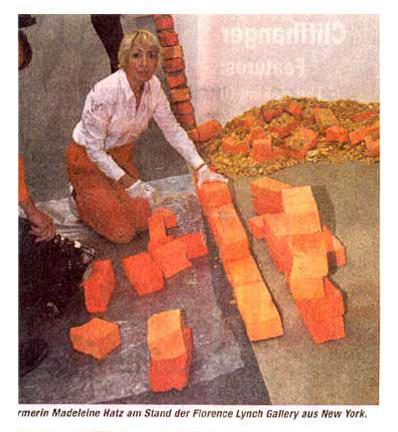 A migrant construction worker passed by here and left traces which amount to a place. It is a site of energy, of drama yet serenity.
The small painting in the middle provides a focal point; it depicts the expulsion of Adam and Eve from Paradise. From now on, they are migrants in the world of impermanence. The piece, which is based on the painting by Domenico Zampieri in the 1500's, also has an abstract quality: it is an undulating loop, going from gaze to gaze, from God the Father, to Adam to Eve, to the snake to the lamb, the lion, the cherubs, etc.
The loop movement is also implied in the cycle of growth and decay. Mortar is oozing between bricks, and the walls that are being erected are already crumbling ruins before they are even finished.
The migrant worker left the mortar and tools behind as one more reminder of the movements that took place here. It is by moving inside and through the place that "it becomes space" ( Michel de Certeau, The Practice of Everyday Life ).
Madeleine Hatz
November 26, 2000
---
"Blue Orange Works"
Brooklyn, October 5 and November 11, 2001
Performance in Williamsburg Brooklyn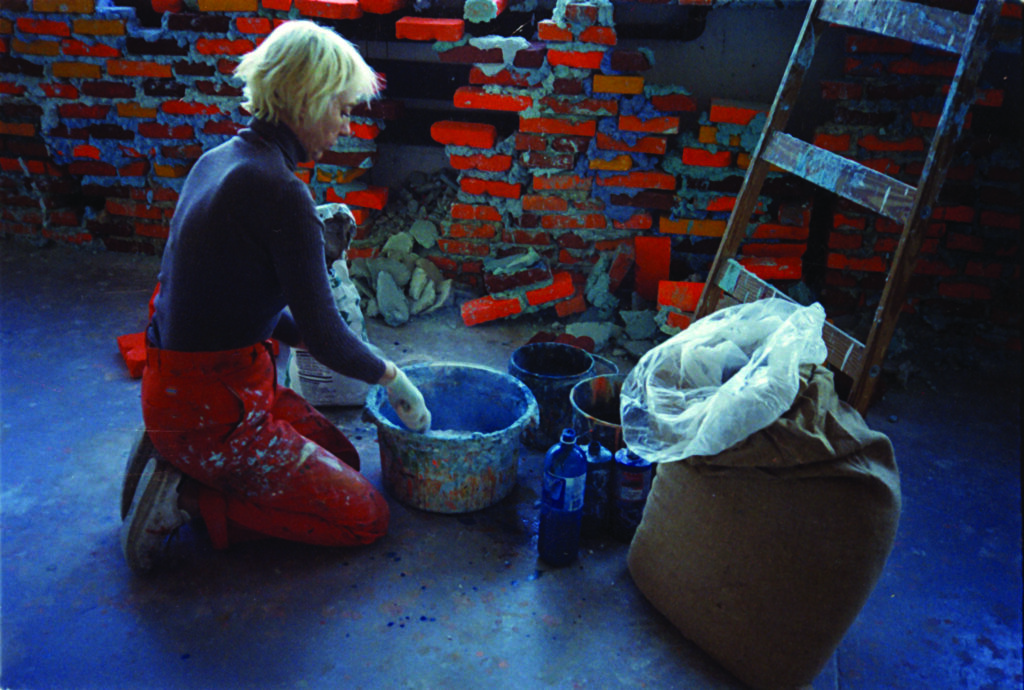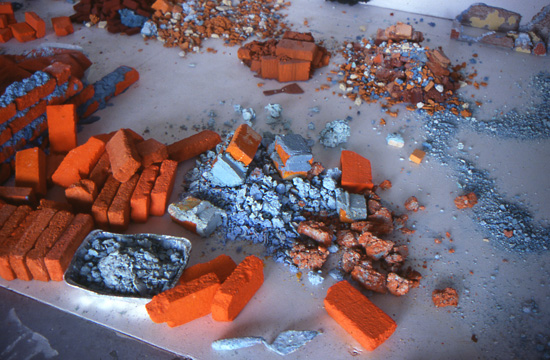 History of Blue Orange
Blue Orange goes back to October 2001 in New York City, one month after the fall of the twin towers. It started as an urge to mobilize for peace, an urge to start forming a resistance movement in the face of growing war propaganda, xenophobia, and patriotism. At a time of chaos and confusion, I wanted to put a call out to the art community. I hosted events at my studio, wrote the Blue Orange Manifesto, and started this web site, which at first did not carry my name. Later the site became the host for all my work as an artist and activist. Painting was becoming literal Act and Action. Color and Space thus become the vehicle for the Act and Action.
The name Blue Orange was picked when I glanced at my palette: At that specific point in time it was blue/orange, which of course is also the two ranges of warm and cold colors. Concretely it is the full spectrum with all its nuances and philosophically it is the perfect paradox: the unification of the seemingly incompatible. Utopia?
As Paul Éluard wrote: "The Earth is Blue like an Orange"